Instagram continues to evolve, with the company's latest announcement sending many creators, business owners, and social media managers into a tailspin. Essentially, Adam Mosseri (head of Instagram) said: "We are no longer a square photo posting app. People come to Instagram to be entertained."
Well, duh!
Those of us who've used the platform in the last 1-2 years know that it's been making moves towards both long and short-form entertainment, primarily through its use of video. Stories, Reels, and IGTV are just a few ways that Instagram is keeping people "entertained" and on its platform longer. 
If you watch the whole 2.5-minute announcement video from Mosseri, you'll see he also talked about other areas that Instagram will prioritize: Shopping, messaging, and its creators. 
My main takeaways are threefold: 
Organizations should strategize ways to build engagement through direct messages. 

If you're an e-commerce brand, you should focus on Instagram's shopping features. 

At the crux of the matter is

content creation

. Organizations that create quality, consistent, and entertaining content will thrive on the platform. 
But feeding the content machine can feel like a grind!! I follow a five-step process to generate steady, creative content for my clients that you can definitely copy. Here's the free guide for how to systematize your content creation process so it isn't as overwhelming.
Here's what I'm getting at: No matter what direction Instagram takes with its business model, brands will still need to create content. And the Instagram feed will remain a go-to! Even better, the below nine ideas don't involve putting your face on camera and shouldn't take more than 10 minutes to create. 
I've also included an example from one of my clients, for each post idea, so you can see it in action! Try one out this week, and tag me in the results!
Instagram Post Ideas for Small Businesses
Idea #1: Post multiple images that tell a story
Instagram's carousel feature is great for keeping people engaged with your content. When they pause to swipe through the images, it's a signal to Instagram that your post is worthwhile. Think of each image as a "slide" that entices people to keep reading. 
You could break up text (a quote, a testimonial, a tutorial) over multiple "slides," or tell a story through images. Below is a great example of teaching a concept using a carousel post. I created the graphics in Canva: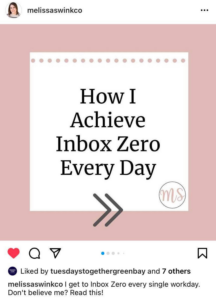 Idea #2: Feature a client, customer, or team member
If you don't enjoy talking about yourself all the time, talk about others' work that you admire! A great way to do this is by featuring a client, customer, or team member. 
Here's a great example of a client spotlight that puts the whole focus on the client, while lightly promoting the creator's services: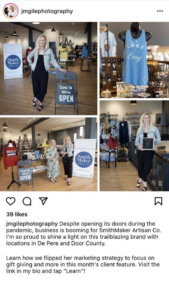 Idea #3: Teach valuable concepts
You want your ideal customer to hire you or buy your product. Right? So what better way to build value in your offering than by teaching something related to your product/service, to prove your expertise!
Product-based businesses can demonstrate multiple ways to use what they sell, or explain useful features. Service-based business owners can showcase thought leadership around a topic in which they're considered an expert, such as this video about mental health awareness: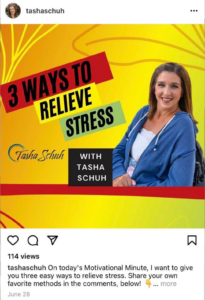 Idea #4: Repost another account
One of my favorite ways to build an engaged Instagram audience is to repost content from other, larger accounts. Choose content that compliments your brand and engages your audience. 
You always need to give proper credit, of course! I use the Repost app because it puts a watermark right onto the image. You should also tag the original creator on the image and mention them in the post with the word "credit" – just so it's absolutely clear where the content came from. 
Here's a great example: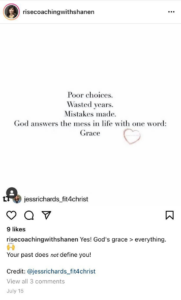 Idea #5: Talk about your "why" – and then ask a question
Whether or not you like talking about yourself, brands and entrepreneurs need to show up authentically online in today's marketplace. This can mean talking specifically about why you (or your business) exists, who you serve, why you're passionate about it, and much more. 
Talk about pressure! One way to soften the idea is to ask a question at the end, inviting feedback or stories. Take a look at this post that covers my origin story and then asks people to engage in the comments: 
Idea #6: Share a thought-provoking quote or statement
Despite Mosseri's assertion that Instagram is no longer all about still images, I'm pretty confident the tried-and-true quote graphic will never go away completely. The reason these posts do so well is because people are compelled to "share" or "save" it – two important engagement metrics on Instagram. 
But I want to challenge you to be original with this. Try to find a diverse voice to quote or even quote yourself. I love this post because she actually wrote out the quote on a felt letterboard: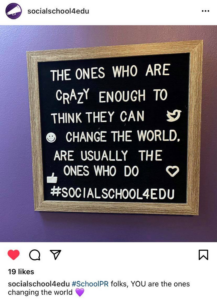 Idea #7: Tell people what you DON'T do
Here's a switch: Tell people what you (or your brand) does NOT do!
Starting phrases can be something like…
If you're looking for someone who ____, that's not me. 
Our brand doesn't stand for ____. 
Scroll past this if you're looking for ___. 
When you open your post with an attention-getting phrase, such as one of these that's phrased negatively, people will stop and read. 
Here's an example: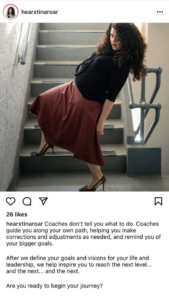 Idea #8: Create a photo slideshow
Instagram videos do not have to be a big production to be effective. In fact, you don't even need a voiceover! 
Pair photos and short video clips with stock music for an inspirational or entertaining slideshow. I used Adobe Spark to create this one: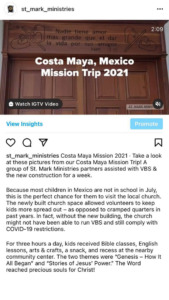 Idea #9: Ask people to vote or give an opinion
People love to weigh in. That's true in-person and online! Look at the comments section of any recent news story for the proof…
Create your own comment-inducing post by asking people to vote or give an opinion on something. Keep it short and sweet for the best results, like this example: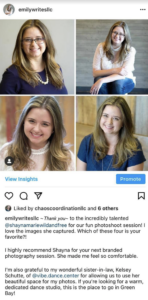 Further Resources
If you enjoyed this article, you might also like: