Shortly after naming my company, I bought the domain and started tinkering around with my very own website.
And tinkering.
And tinkering.
A few months passed and I still didn't have much. After choosing my last day in corporate America, it was time to get serious about creating a professional-looking website. I was determined to DIY the entire thing and let me tell you…
I STRUGGLED!
I am not a website builder!! Now don't get me wrong; copywriting my site came easily. I knew what services I want to provide and how to state my value. I had my "About" story written and my graphical elements designed (thanks to a professional graphic designer). But even though I was comfortable with the blogging features of WordPress, building a website from scratch was a whole other story.
After breaking the site multiple times (and breaking down in tears more than once), I finally had www.emilywritesllc.com "go live" in time to launch my company full-time on June 1, 2019. But if I could go back and do it again, I absolutely would have hired an expert!
Today, when I need website updates, I rely on a web professional. No more breaking websites, for me.
But one of my favorite services is website copywriting. I love cutting to the heart of an organization's message and telling that story online. And now, I can write an entire website's worth of content in just a few hours!
That's why I've teamed up with Melissa Swink of Melissa Swink & Co. to offer "Website In A Day."
Melissa has built many amazing Squarespace websites that are clean, professional, and perfectly integrated with platforms such as email systems. Paired with my content writing skills, we make the perfect team.
For busy entrepreneurs, start-ups, and DIY service providers who need a professional website but just can't find the time or expertise to build one themselves, we're the team you need.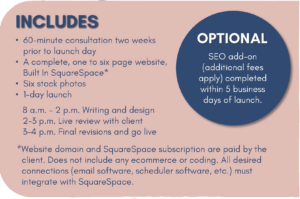 Why Website In a Day?
It's a fast and efficient way to launch your site in one day! No more waiting weeks or months, with endless revisions and stalled plans.
A website will increase your sales, boost your credibility, build your list, and generate new leads.
No more writer's block! We write all the content for you, utilizing the StoryBrand method – a proven process for capturing the core of your message and communicating it in a way that resonates with your target audience and compels them to take action.
Download more details about this new service right here!