When it comes to being a savvy business owner, it's not just about the resources you have and how you use them, but also about knowing how to connect the dots between people 
Today, I'm talking about relationships: The foundation to your growth as a business owner. I'm excited to share my passion for building and using relationships to grow a business.
Building Relationships with Other Entrepreneurs 
When I say "using relationships," I definitely don't mean taking advantage of others, or seeing relationships with people as merely transactional. I do mean that we should see relationships in business as mutually beneficial. 
For instance, connecting with another entrepreneur in your industry doesn't mean that you two are necessarily competitors. Yes, you may provide similar services, but I believe in an abundance mindset! There's a big pool of clients out there and there's room for all of us. Consider the fact that two similar businesses can help one another out. 
I absolutely love connecting with people who work in the content marketing / social media strategy space. We almost always have different specialties and passions, and I love being able to refer inquiries who aren't quite the right fit for Emily Writes to service providers that are perfect for them. I am always learning and growing, and connecting with others who do the same thing that I do allows me to challenge my assumptions and better serve my clients. 
So, in the spirit of community, it's always good to have a network with others in your industry (or in adjacent industries) so you can outsource work and share referrals.
Building Relationships with Clients and Fans
As you build your personal brand, connecting with others who appreciate your work – and may one day be paying clients – is integral to your growth. People buy from brands that they know, like and trust. This starts with us! We need to show up for others and make meaningful, intentional connections. 
Online Relationships
In today's world, this happens mainly online. Social media, podcasting, blogging, and email newsletters are all examples of ways you can build relationships with clients, potential clients, and fans of your brand. 
The best tip I can give you today is simple: Always make sure your online presence is a two-way conversation. That means inviting comments, messages, and feedback on every piece of content you create. Make it easy for people to talk to you about what you're putting out there! A successful relationship is always a two-way conversation. 
If you aren't building a foundation of reliability and likability in your business, you're going to struggle to grow and scale. People don't want to just know you're competent; they also want to like and know you.
In-Person Relationships
I recently wrote about how I'm a self-proclaimed, proud introvert. Working from home in my sweats, with only my cats for company, is seriously my dream gig! 
But in-personal relationships are just as important as your online presence. In a pandemic / post-pandemic world, "in-person" can be loosely applied to cover face-to-face videoconferencing. Connecting eye-to-eye with other humans is how business has been done for centuries. Try to harness every opportunity you can to (safely) interact "in-person" with your clients and fans. 
In-person networking, is still possible…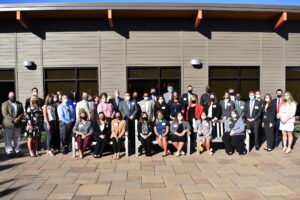 This year, I invested in my self-development and personal networking by joining the Leadership Green Bay Class of 2021. We've been meeting for months – often virtually – to gain a deeper appreciation for our community and connect with other leaders in the area. Follow me on LinkedIn to hear more updates about this program and my group's project!
Tips for Improving Your Relationship-Building Skills
When you focus on building long-lasting, impactful relationships and put your clients' satisfaction as a priority, people grow to become loyal to you. Think about it: What are the businesses in your life that stick out in your mind as high-quality? What sets them apart as high-quality? It might not just be their product or service, but also their customer service.
There's a reason why reviews online for businesses tend to weigh so heavily on the experience of the user. Someone might love a restaurant establishment for their dishes, but find the service to be crummy because the waitstaff are inefficient or rude. We want to be the best of both worlds in business: Delivering both on the product/service and the charm. When you can bring your A-game to building relationships with others, people associate your brand as likeable and this foundation of relationship will help your business continue to flourish in the future.
1 | Show up and show off your brand personality.
Provide value in whatever spaces you show up. Whether that's on Instagram, Twitter, Facebook, LinkedIn, or anywhere else – establish yourself as a personal brand and provide insight and value to others so people can associate you in their mind as a business that's honest and approachable.
2 | Spend at least 1 hour a week on social media, building intentional relationships.
Send messages to business owners whose work you admire. Connect with interesting people in your industry on LinkedIn. Take the time to send a personalized note to past clients to see how they're doing now. Respond to all (non-spammy!) messages and comments that you receive. All of these efforts make a difference. People will remember the businesses that take time to make them feel seen, heard, understood, and supported. 
3 | Invite people to engage with you. 
Whether it's a social media post, a blog post, a video, an email newsletter, or another form of digital media, create a call to action at the end of your content that you share. Always invite people to shoot you an email, book a virtual coffee chat, or to share, like, save, or leave a comment.
When you invite people to engage with you or your content, this keeps you top-of-mind. It also shows that you are an approachable, caring, and intentional entrepreneur!
In a nutshell…
Building relationships is a key factor in your success as an entrepreneur. You want to be known as the "go-to" person in your industry. In the same way that you have gravitated to businesses you know, like, and trust, others will also do the same with you. 
Focus on building relationships, and you also build a foundation for your business to scale and grow in the years to come. Relationships are what keep you from needing to constantly hustle to find new clients! Once you build some loyal clients and vendor relationships, your dream clients and vendors end up finding you because of the positive things people in the community say about you and your brand.
How do you build relationships in your business?

Comment below and let me know what you do – maybe we can support one another!